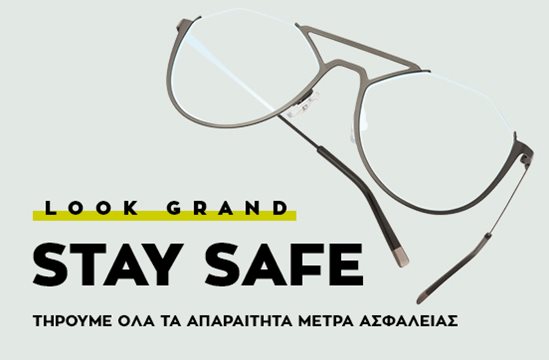 01-05-2020
Safety Measures in all our stores!
Dear customers,
We are very please to be able to welcome you back to our stores.
We want to assure you that our staff constantly ensures that all necessary measures are implemented for the protection and safety of all customers and all staff.
More specifically:
All employees use disposable masks and gloves, which they change when needed.
At the entrance of our stores we offer antiseptic gel and disposable gloves.
Each time one of our customers tries out a pair of glasses, we then disinfect them with special alcohol solution.
We advise using a credit card instead of cash.
We only allow a specific number of people simultaneously in store, according to instructions from the authorities.
We have placed floor stickers with the message "Keep the distance" to ensure they are properly kept.
Staff members wear a face shield and a mask while performing you vision tests.
Before and after each customer is served, we disinfect the surfaces and the cash register.
Every day, before opening our stores, all surfaces are thoroughly cleaned and disinfected.
At GrandOptical stores we remain updated to new rules and remain fully compliant with the new hygiene rules for your safety. That way we can focus on providing you the best service, safely.
For any more information about the stores, you may call at +30 211 012 0260 or contact at info@grandvision.gr. We will be very excited to see you in one of our stores!